Voyage Chicago Interview
http://voyagechicago.com/interview/meet-kaity-siegel-grimmenga-siegels-cottonwood-farm-lockport/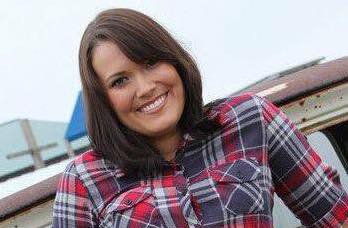 Today we'd like to introduce you to Kaity Siegel-Grimmenga.
Thanks for sharing your story with us Kaity. So, let's start at the beginning and we can move on from there.
For more than 100 years and four generations, our family farm; Siegel's Cottonwood Farm in Lockport has been the place where memories are created. Not just by our family, but thousands across the region. Frank and Gertrude Siegel my Great Grandparents moved to this farm in 1909 to raise their family of seven children, who would establish the legacy of Siegel farming. Today, it is still a working farm run by my dad Paul Siegel, third generation and my mom Susan Siegel. As times changed and demand for the farm as a destination for family fun, corporate events, weddings and benefits grew, The Siegel's swapped livestock for Pumpkin Fest – kid-friendly attractions, our famous extra sweet sweet corn, Grandpa's secret recipe kettle corn – Statesville Haunted Prison, voted one of the scariest haunted houses in the country, a nationally-recognized corn maze and, now, one of the most desired wedding locations in Illinois.
Has it been a smooth road?
We have had struggles from when my dad purchased the farm from his brothers and sisters when my grandfather passed away to my dad having a heart attack when he was only 39 years old to my older brother getting his foot stuck in the auger as Freshman in high school to just last year when my first nephew was born at 23.5 weeks pre-mature. We see it as "God sends you only what you can handle". Every farm has its struggles but that is what family is for to get your through the tough times.
So, let's switch gears a bit and go into the Siegel's Cottonwood Farm story. Tell us more about the business.
The Siegel Family has a long four generation 100-year history on their farm on Weber Road. Frank and Gertrude Siegel moved to this farm in 1909 to raise their growing family. They raised their seven children, five boys and two girls on this farm. When Frank got sick, their son Francis second generation, moved back to this land to continue farming and to raise his family in the mid nineteen forties. After Frank's death, Francis and Marie Siegel raised their family in the same house and farmstead that Francis grew up in. Farmer Paul, the third generation and sixth oldest of nine, grew up with his brothers and sisters, five boys and four girls, in the same house that his father Francis did.
Fall has always been Farmer Paul's favorite time of the year. He was born on his father's 50th birthday, October 30, 1957. On September 6, 1980, he married the love of his life Susan Huston. A short eleven months later their first son Jason was born in 1981 followed by Zachary 1983, Kyle 1986, and Kaitlin in 1987, making the fourth generation. Jason married Sara 2009 and have 4 children, Madison, Mia, Miley, & Lexi. Kyle married Kelsi in Sept of 2012 and they have a daughter Kendyl along with the FIRST baby boy in the 5th generation Kaden Francis. Kaitlin and Dave were married by her Uncle Joe (Bishop) at the Cathedral of St Raymond, January of 2016 followed by a beautiful Traditional Timber Barn reception.
There have been many changes on the Siegel Farm since Grandpa Frank started farming this land with a team of horses in 1909. As the third generation, Farmer Paul continued growing Corn, Soybeans, Hay, Pumpkins, Indian Corn, & Gourds. In the 1970's he started growing sweet corn and pumpkins, and stopped raising livestock in 1980. As the kids got older, they provided valuable labor such as hand picking sweet corn at 5:30 a.m. Then Paul and Sue, with their young but growing family, added Agri-tainment to their farm with pumpkins and cornstalks. Our guests wanted hayrides and haunted barns and much more. After Jason graduated from Lewis University and Kyle from high school, they followed other interests and jobs off the farm but always come back to the farm in the fall to help on weekends. Kaity has stayed with Farming and working on the Farm full time and Zach in the Summer Months with their Sweet Corn Stands open 7 days a week. They both have inherited love of the land, growing and working with the public from their father Paul and grandfather Francis. Paul, Sue and family are here to put smiles on everyone's faces and pleasant farm memories. So, come to our Farm and Harvest some Memories with us.
This summer the Farm inspires more memories with a new event venue, The BARN at COTTONWOOD FARM. The open air, classic timber frame barn and event space is the first traditional Amish barn raising in more than 25 years in Will County, and will host rustic weddings, receptions and corporate events and dinners. The barn raising will begin end of May and official opening will be mid-July of 2017.
Inspired by my own barn wedding, the Siegel's opened their farm to brides and grooms and area companies, that loved having their events on the farm. Due to popularity, they soon realized that they needed a permanent structure on the farm for weddings and events; one that would maintain the rustic ambiance of the farm, and could also provide an elegant, "shabby chic" feel. They turned to the best builders they know, the Amish.
How do you think the industry will change over the next decade?
Hosting the best events and weddings in our brand-new Amish Built Timber Frame Barn. To be one of the most desired wedding locations in Illinois!
Contact Info: